Seeds of War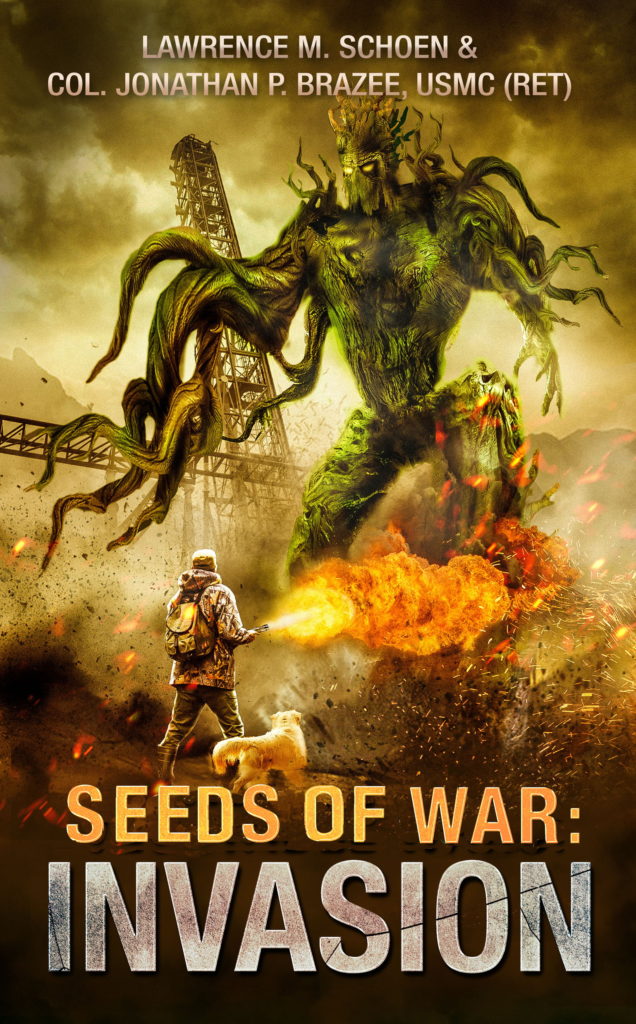 "Invasion!" That's what retired Marine Lieutenant General Colby Edison calls it when his farm is overrun by a horde of alien plants, leafy gremlin-like creatures that begin systematically destroying first his crops and then his home. And not just his farm, but all the surrounding farms as well. The relentless plants have apparently killed his neighbors, and clearly he and his dog Duke are next. But as a retired Marine, Colby has resources and skills not shared by other farmers on the newly terraformed agricultural world of Vasquez and soon he is bringing the fight to the invaders.
Except. . . who is really invading whom? High in orbit above Vasquez, a sentient vegetable studies the planet it had seeded and sculpted centuries before, laying it out as a world-sized garden. Now, returning to inspect the progress of its work, it finds its art has been tainted by the intrusion of crop grids, farm buildings, and people, all of which must be purged if the garden is to endure.
When two species clash, only one will survive.
Former psychology professor Lawrence M. Schoen and retired Marine Colonel Jonathan P. Brazee join forces in this first volume of the SEEDS OF WAR trilogy, pitting Marine against Gardener, with the fate of all of humanity hanging in the balance.
Published:
June 30, 2018
Publisher:
Cover Artists:
Genres: